Printing Technology – FFF (Fused Filament Fabrication)
Number of print heads – single or dual (optional)
Delivery – Self assembly kit. Assembly guide includes easy to follow videos and online 3D models that could be rotated and zoomed.
Print Volume:
Big-60 – 600 X 600 X 660 mm (XYZ)
Big-120X – 1200 X 600 X 660 mm (XYZ)
Machine Size:
Big-60 – 906 X 1060 X 1356 mm (W x D x H)
Big-120 – 1556 X 1025 X 1356 mm (W x D x H)
* not including filament spools on the left side
Weight:
Big-60- 120 kg
Big-120X- 160 kg
* Including packaging, enclosure and 2nd print head
7-inch Duet3d touchscreen – integrated with the controller
WiFi web access for remote control from either mobile or PC
allowing uploading print files directly from your workstation.
SD card and USB.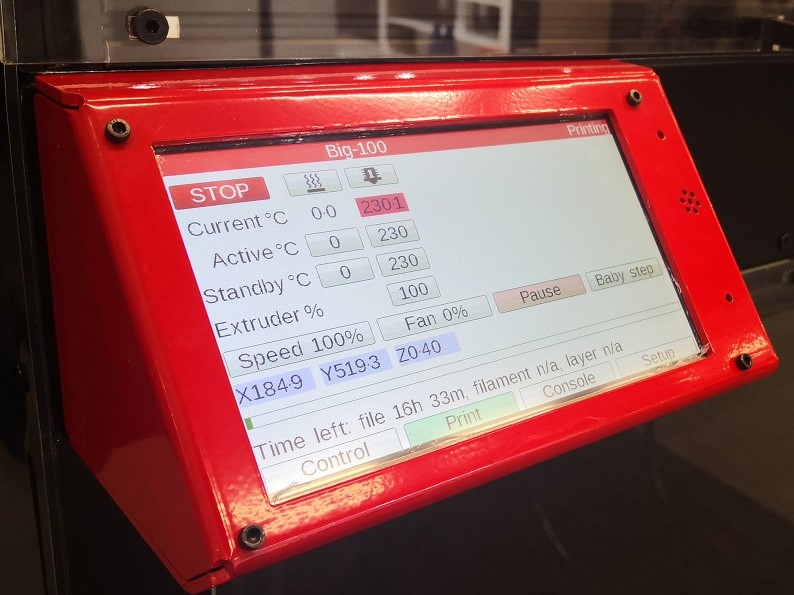 Hiwin MGW12H linear guide rails
Four Z ball screws for Z axis 16mm diameter, 4mm pitch
9 mm width Gates GT2 timing belt, reinforced with fiberglass
Axis Motors: Motech Nema 17  60mm length MT-1705HS200A
| Holding Torque: 114oz.in (8.2kg.cm) | Current / Phase: 2.00A |
Position accuracy: X-10 Micron, Y-10 Micron,  Z-0.5 Micron.
Print speed – Normal quality 60 mm/sec, Draft 100 mm/sec
Calculated for 0.4 nozzle. Larger nozzles normally print slower but providing parts much faster due to reduced amount of layers (thicker layer = lower resolution = faster results).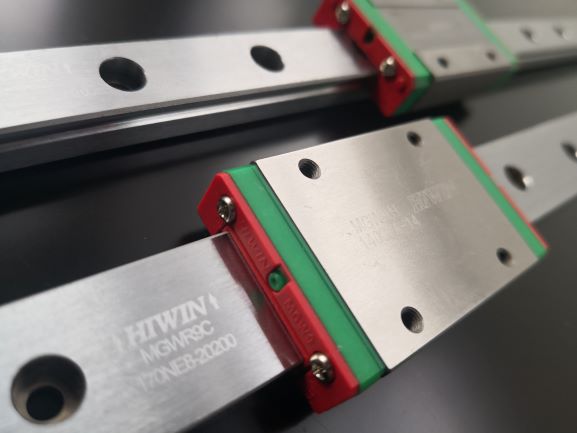 Supporting both 110V and 230V
For electronics: – Meanwell 24V 280W Power Supply

Protections: Short / Over-load / Over-voltage / Over-temp.
No load power consumption<0.5W
LED indicator for power on
Aviation grade switches and connectors

Heat Bed AC powered heater  1370 Watt
PID bed heater controller by Autonic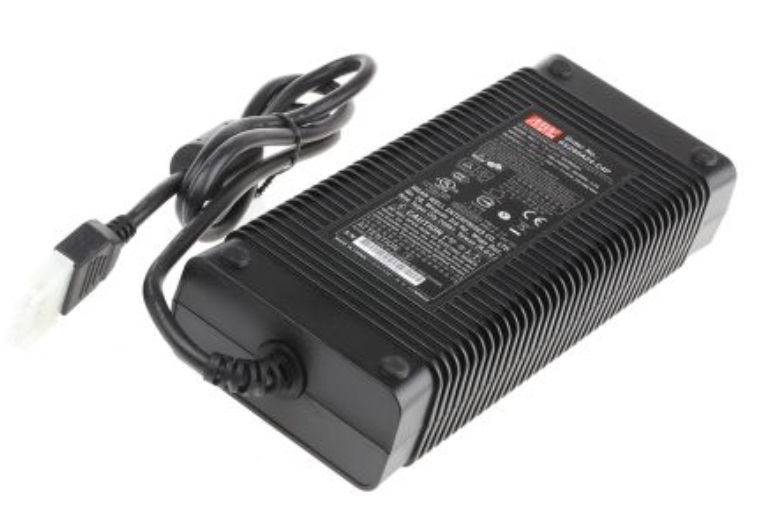 6.35mm thick, Alcoa Mic6 milled cast aluminum plate, made in USA.
AC powered bed heater 1370 Watt. Requires additional independent 15A AC source.
Dual heating zones. Inner 200X200mm size for small objects and lower power consumption.
Max temperature – 120c
Print surface – PEI film with 3M high temp adhesive sheet.
BL touch probe as standard
Probing of bed shape is kept in controller memory and activated before each print.
Probing mesh: Big60 – 100 points, 120X – 200 points.
* The photo on the right shows the interface of the calibration process. This results shows that a slight move up of the rear left bed mount is needed.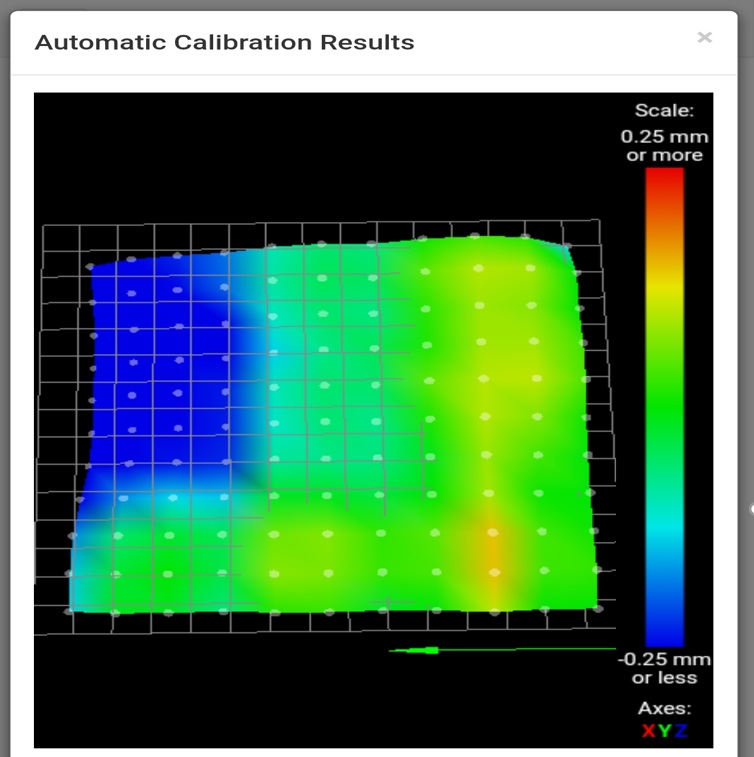 Open source Duet RepRap firmware. The leading firmware for 3D printing allowing numerous configurations and easy customization using the macro system.
One can choose from any available slicer and 3d printer controller including: Slic3r, Cura, and Simplified3d (recommended).
Specific printer configurations are supplied in the customer zone.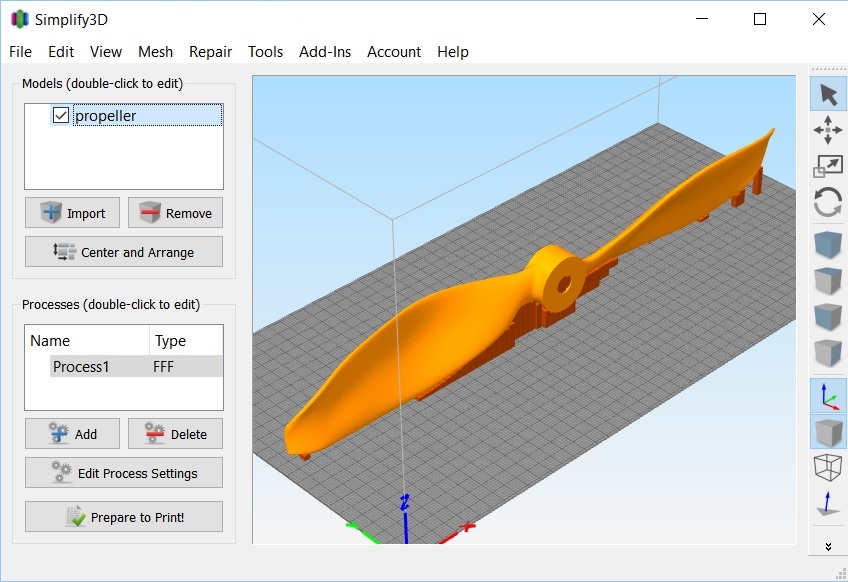 E3D Aero extruder for both primary and secondary extruders.
Configuration: Main – direct drive, secondary – direct drive.
Extruder drive gear ratio 3:1 for power and accuracy.
Nema17 40mm for high power extrusion.
Adjustable tension idler .
E3D V6 Volcano high flow heat block – standard.
Optional E3D V6 for very small items with high details or Super Volcano for a very fast high flow and bulky objects (shown at the photo on the right).
1.75 mm filament diameter by default, End-customer can customize to 3mm filament, instructions will be provided.
0.4, 0.6 & 0.8 mm brass Volcano nozzles.
Smaller nozzle diameters are available for the standard V6
Heater cartridge is  24V 40W, max temperature is 285c By default. Can be converted to higher temperature by changing thermistor if needed for up to 400c by end-customer.
Part cooling fan – 5015 blower fan
85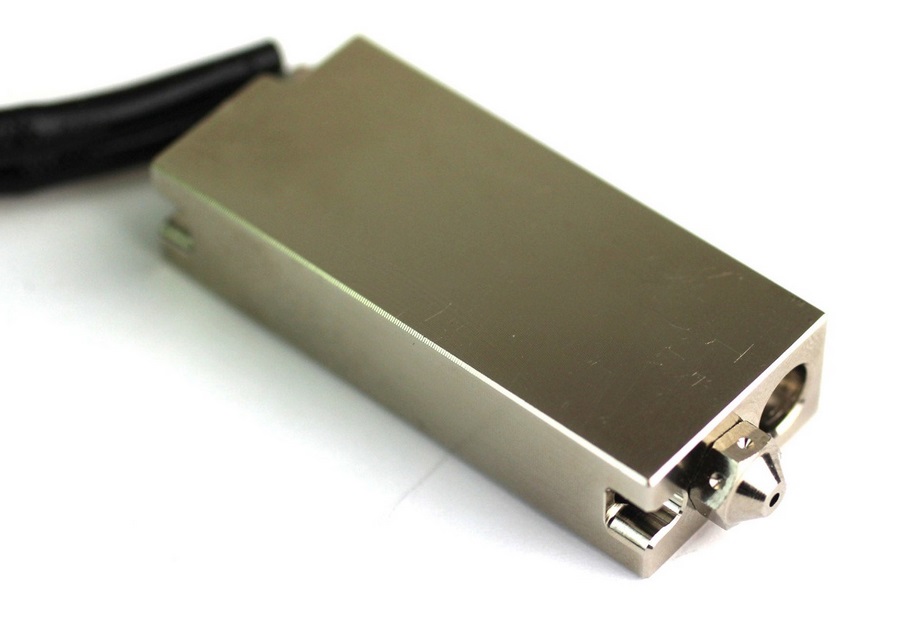 Our printing head supports almost any existing filament including :
PLA, ABS, composites: Carbon fiber, Wood, Copper, Brass, Magnetic…, PHA, PVA , Hips, Nylon, TPE & TPU (flexible) Co-Polyester, PETG…
Open Filament – One can use any filament from any vendor.
Filament Run-Out Sensor – The filament run-out detection sensor will pause the print job when the filament is finished.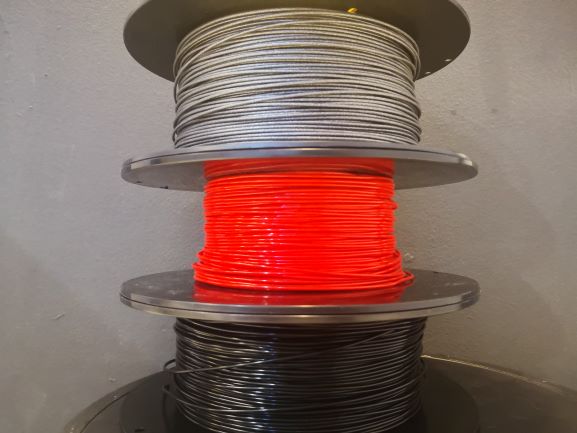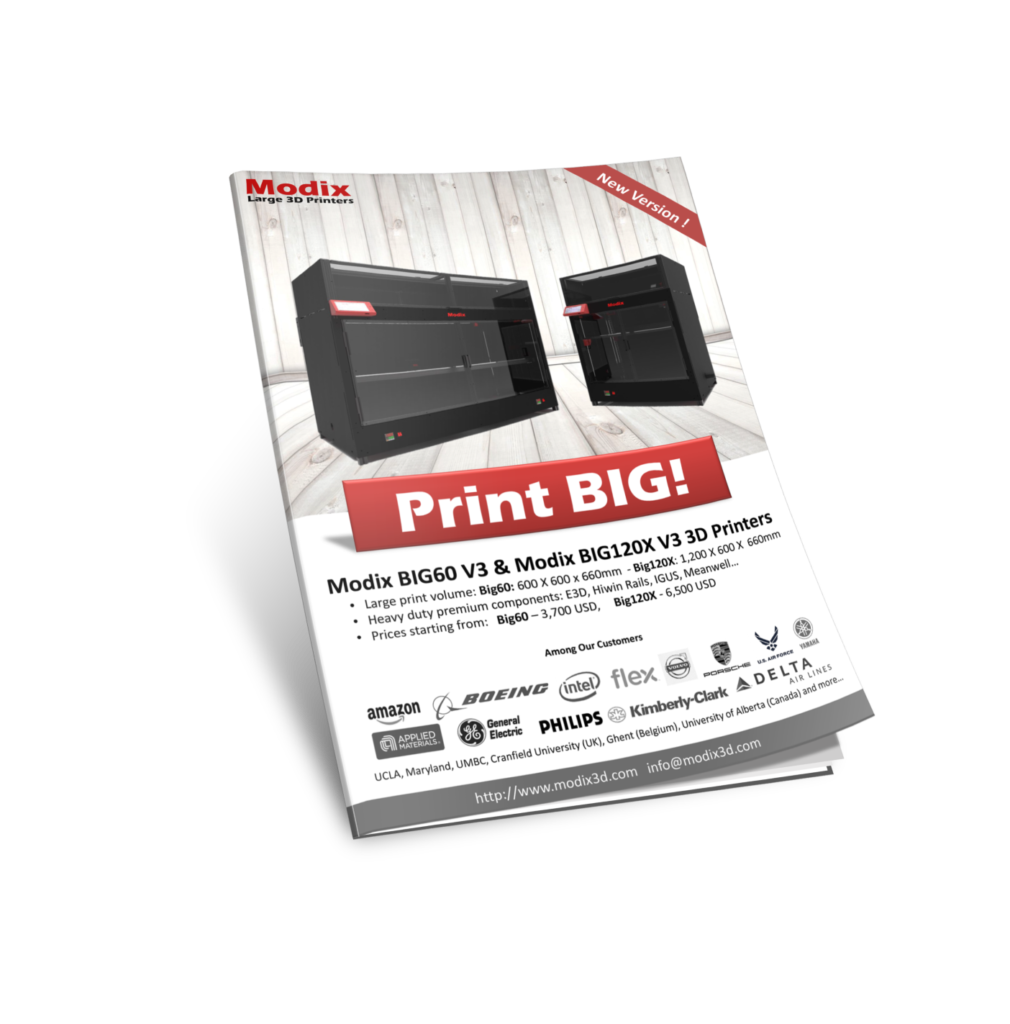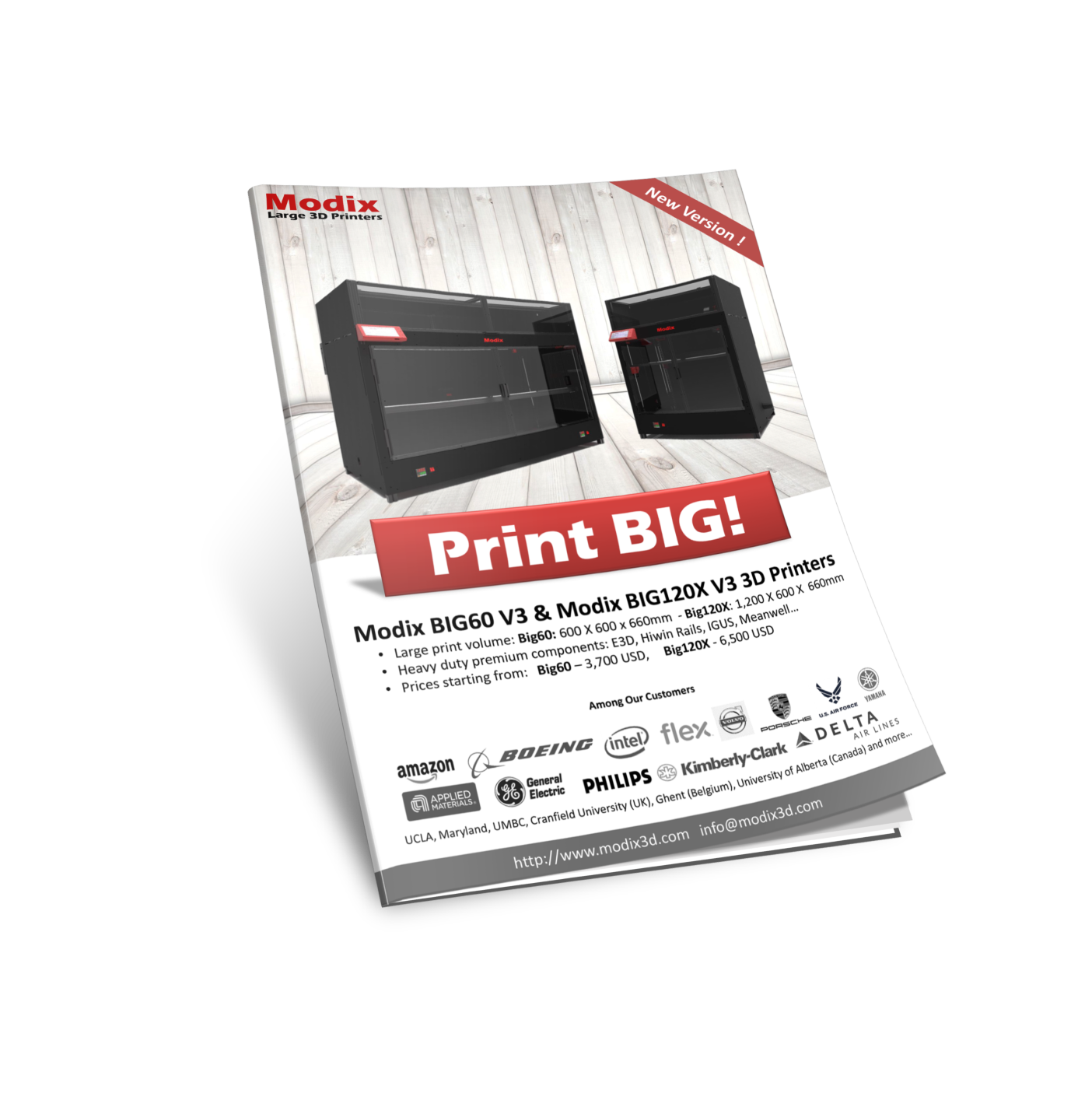 Send data sheet & more info: