Technical Specification (all models):
Printing Technology – FFF (Fused Filament Fabrication)
Delivery – Self assembly kit. Assembly guide includes easy to follow videos and online 3D models that can be rotated and zoomed.
Similar Core concept- All our printers share the same design (electronics, print head, motion etc..) and are based on Modix BIG-60 V3.0.
Version 3.0 – Version 3.0 was introduced at early 2020. For more information about version 3.0 features, please click here
Upgrade  – New versions are designed with backward compatibility in mind. Owners of Modix's printers enjoy upgrades from time to time in both configurations and  hardware. For upgrading old versions, please check this page.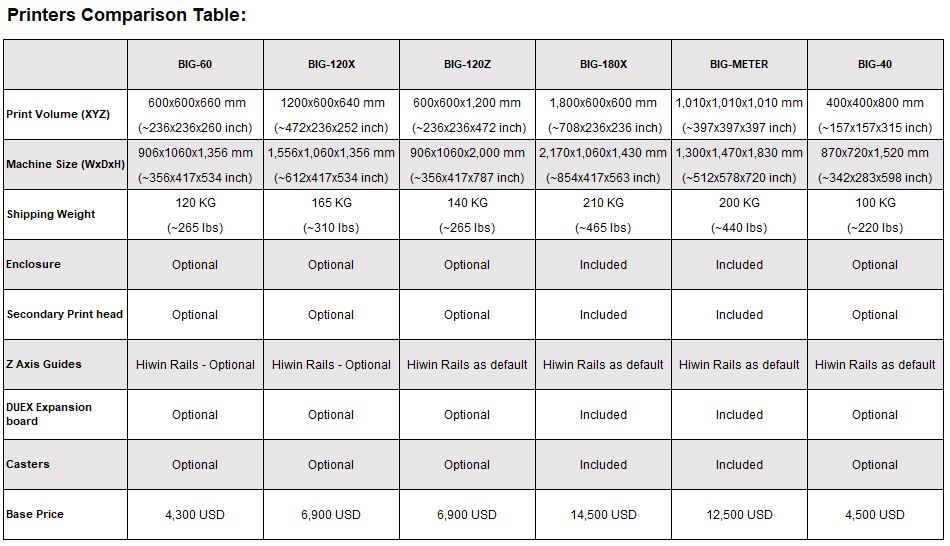 In-depth Technical Specifications
Duet 3D Printer Controller
Duet 2 WiFi, a powerful 3D Printer controller made in the UK
Powerful 32 Bit Processor
Dedicated Wifi module with external antenna
Super quiet TMC2660 stepper drivers, up to 256 microstepping.
High speed uSD card and support for a second external SD card if required.
Dual extruders on the main board, up to 5 more extruders on the expansion board.
High Power rating: Each stepper driver is capable of 2.8A motor current, currently limited in software to 2.4A.
Connect via PC, tablet or smartphone on the same network to the on board web interface.
Set up your printer and update the firmware through the web interface.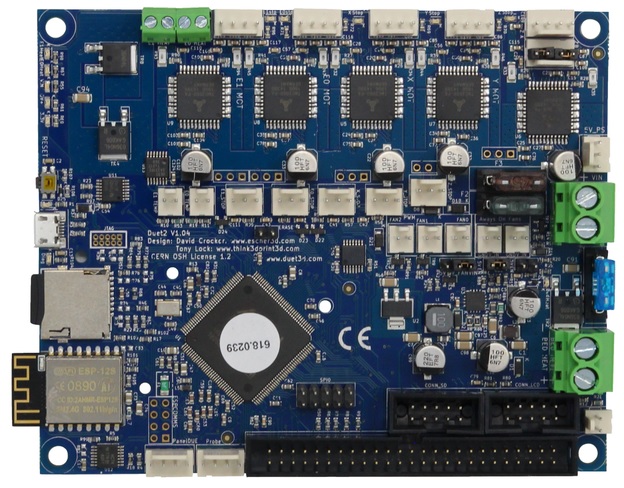 Touch Screen
7-inch Duet3d touchscreen – integrated with the controller
Web Interface
WiFi web access for remote control from either mobile or PC allowing users to upload print files directly from their workstation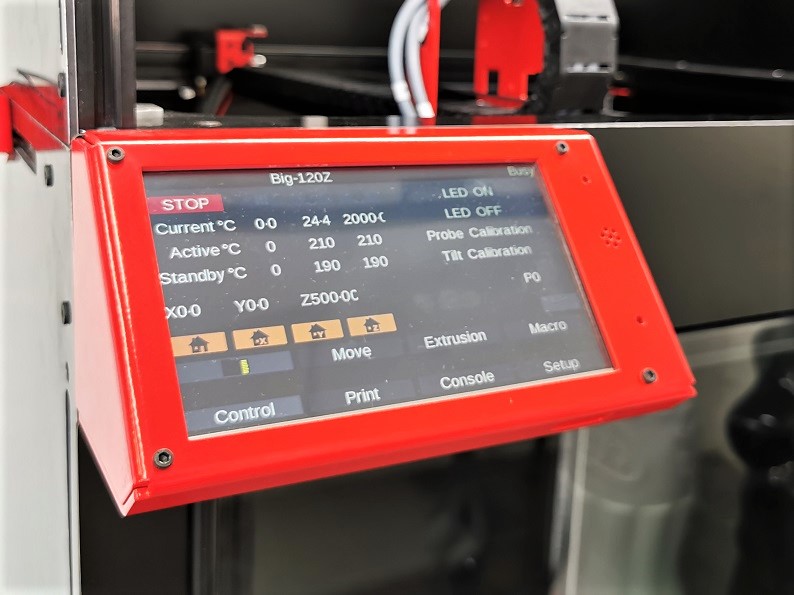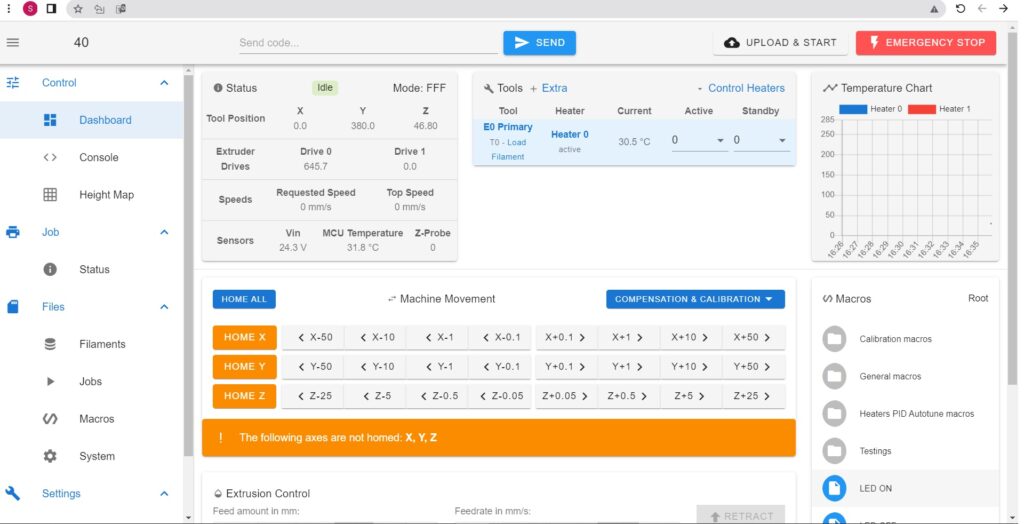 Tilt Screen & Emergency Button
Tilt Screen
The tilt screen is a 'convenience' improvement, mainly in our tallest machines: Modix BIG-Meter and Modix-120Z but it is compatible with all our printers models.
Emergency Reset Button
Together with the tilt screen update, a new emergency reset (software reset) button is now located on the front of the machine. This control and safety feature will allow you to immediately stop prints whenever needed.
* These two features are being sold as a single combined add-on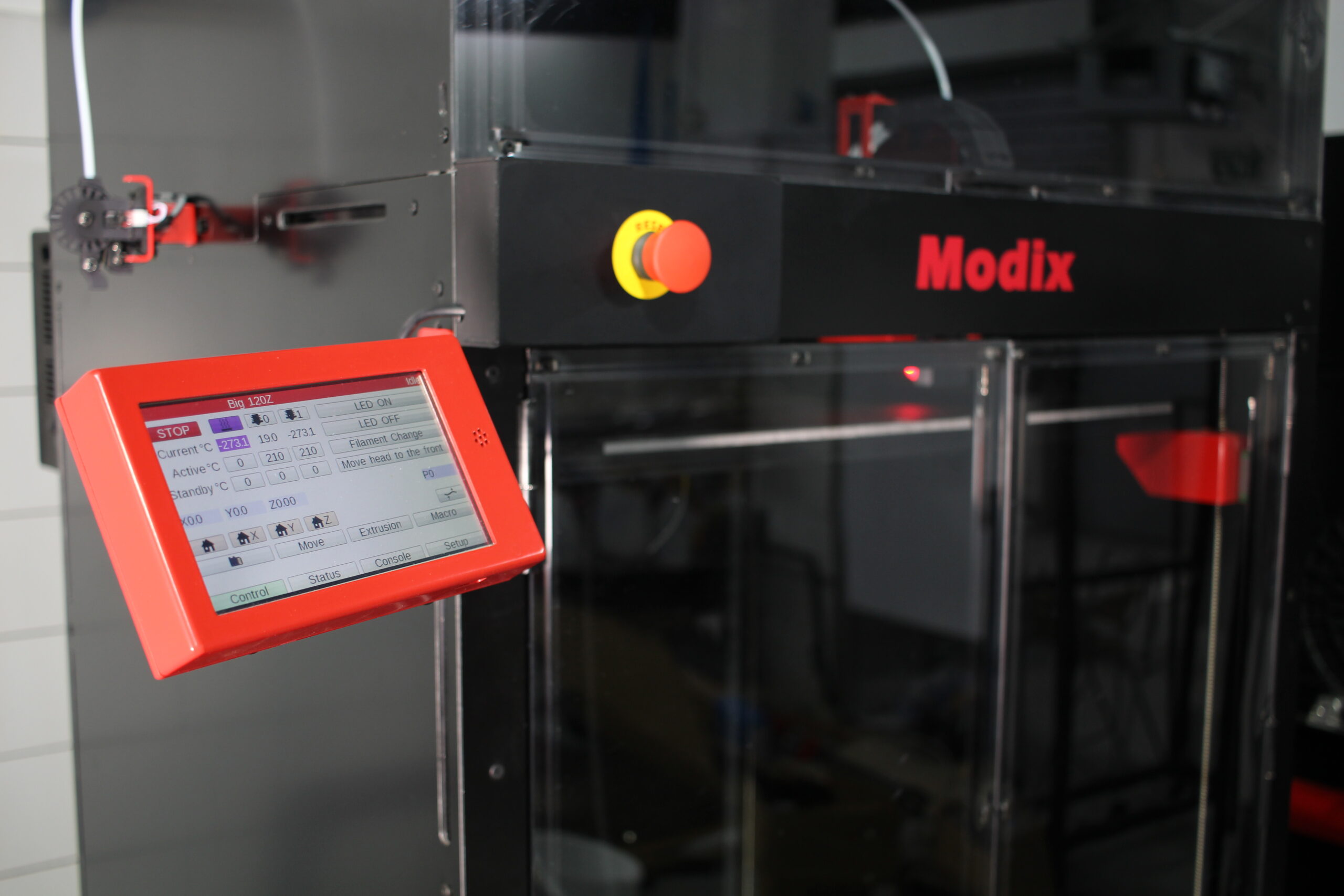 Hiwin MGW9H linear guide rails
Four Z ball screws for Z axis 12mm diameter, 4mm pitch
9 mm width Gates GT2 timing belt, reinforced with fiberglass
Axis Motors: Motech Nema 17 60mm length MT-1705HS200A
| Holding Torque: 114oz.in (8.2kg.cm) | Current / Phase: 2.00A |
Position accuracy: X-10 Micron, Y-10 Micron,  Z-0.5 Micron
Print speed – Normal quality 60 mm/sec, Draft 100 mm/sec, Calculated for 0.4 nozzle. Larger nozzles normally print slower but provide parts much faster due to a reduced number of layers (thicker layer = lower resolution = faster results).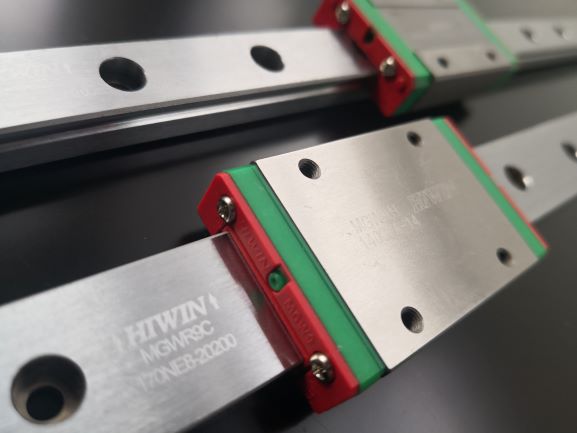 Support both 110V and 230V
For electronics: Meanwell 24V 280W Power Supply

Protections: Short / Over-load / Over-voltage / Over-heating.
No load power consumption<0.5W
LED indicator for power on
Aviation grade switches and connectors

Heat Bed AC powered heater 1370 Watt
PID bed heater controller by Autonic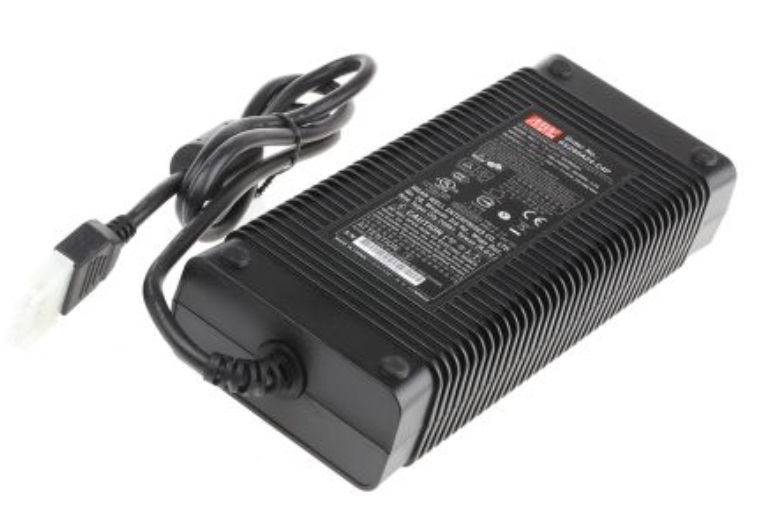 6.35mm thick, Alcoa Mic6 milled cast aluminum plate, made in the USA.
AC powered bed heater 1370 Watt (1,200 Watt for 110V users). Requires a dedicated independent 15A AC source.
Dual heating zones. Inner 200X200mm size for small objects and lower power consumption.
Max temperature – 110

o

c (with enclosure)

Print surface – PEI film with 3M high temp adhesive sheet.
This add-on will greatly improve the user experience and save you time on a daily basis.  Modix's printers are delivered by default with a PEI sheet that tends to release the print jobs once the bed is cooled done. With the new removable magnetic bed, users do not need to wait or work hard with a spatula and can easily and immediately remove objects after completing the print job by simply bending the spring steel plate.
This add-on includes an adhesive magnetic sheet that should be fixed to the aluminum bed plate and a removable spring steel that should be placed on top of it.
The flexible spring steel plate is printable on both sides. One side is PEI powder coated providing textured bottom surface and the other side is serviced with a standard PEI sheet providing a glossy bottom finish.
Another advantage is the maintenance, the PEI installed on the bed plate can degrade over time. Print removal with a spatula may result in unwanted scratches that later appear at the bottom of the printed object. Replacing the PEI on the removable spring steel or even buying a spare unit is much easier than removing it from the bed plate itself.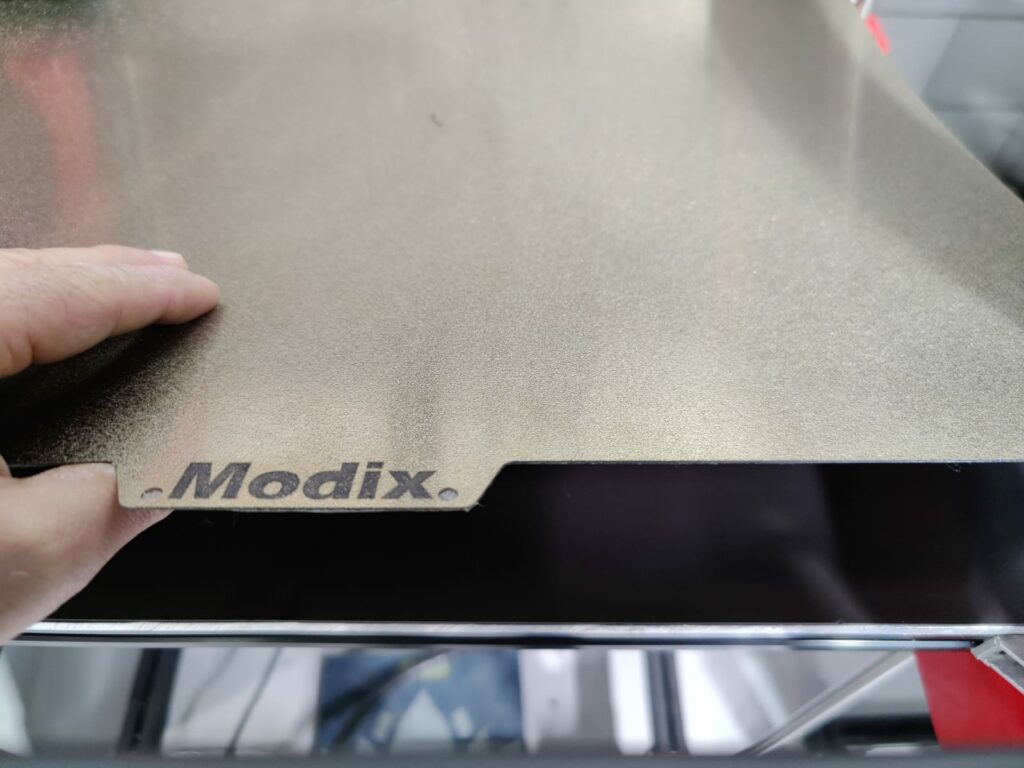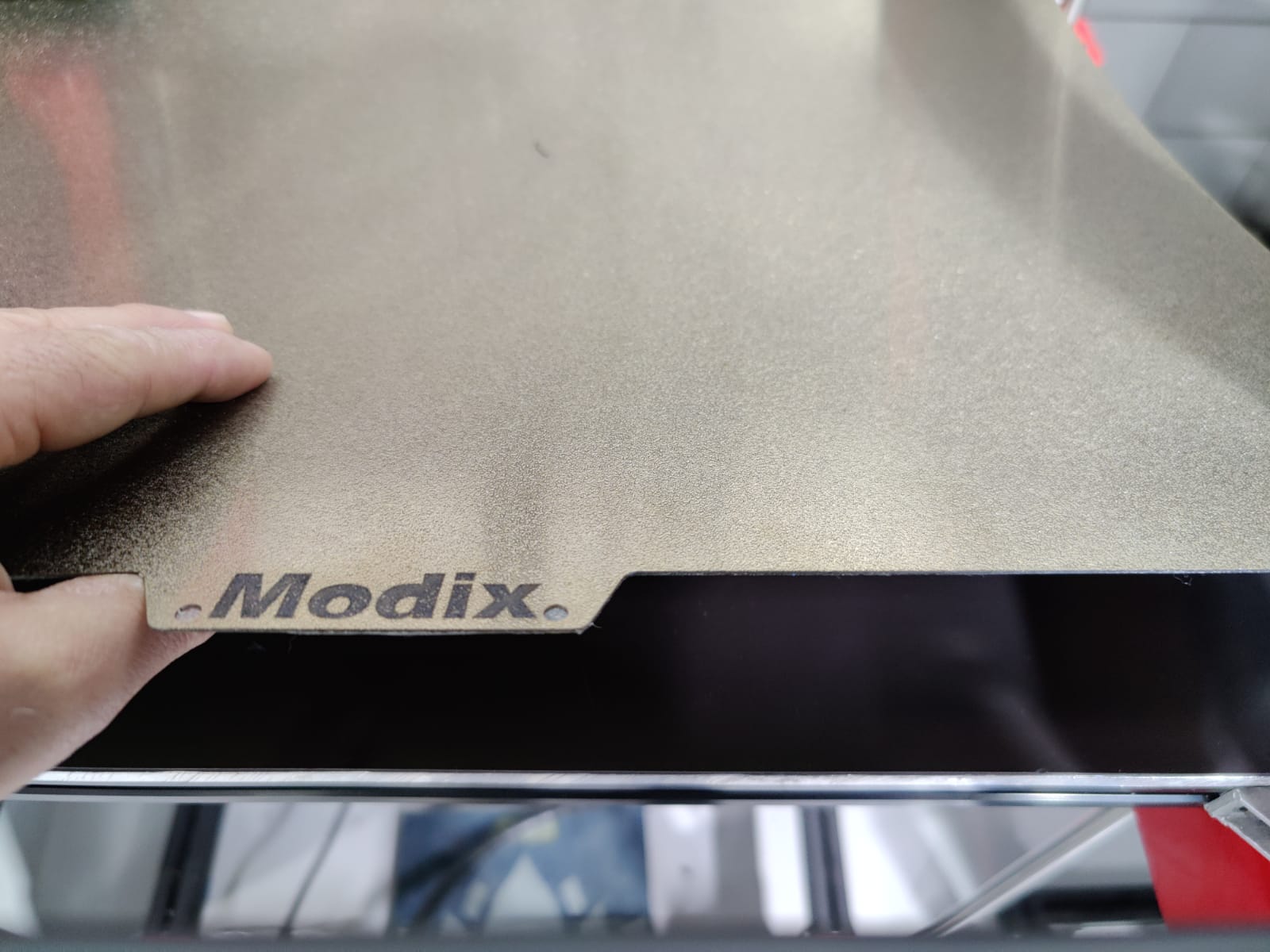 BL touch probe as standard
Probing of bed shape is kept in controller memory and activated before each print.
Probing mesh: Big60 – 100 points, 120X – 200 points.
* The photo on the right shows the interface of the calibration process. This results shows that a slight move upwards of the rear left bed mount is needed.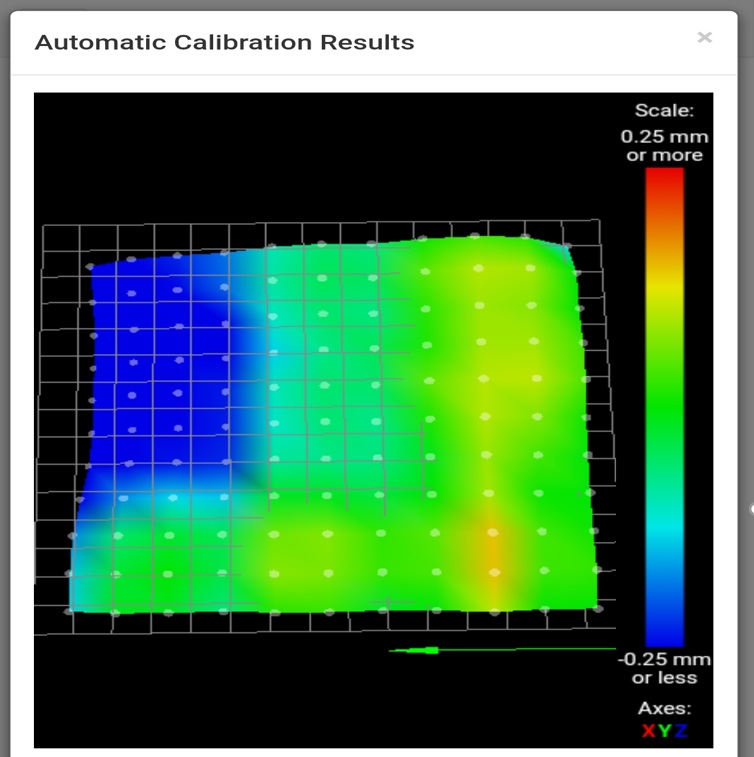 Automatic Calibration Expansion
This upgrade improves user experience by automating calibration procedures. Included are automatic print-bed tilt calibration (Z axis) and automatic gantry alignment (X axis). In addition to the standard print bed surface mapping, Modix is now offering a user-friendly fully automated calibration process.
This upgrade is delivered as a new controller box which features an additional electronic board named DUEX-5 expansion board doubling the total amount of stepper drivers from 5 to 10.
By allocating a dedicated driver for each of the Z and X axis motors we get a specific control of each stepper motor, and no longer must be moved unison. This allows to perform a fully automated system calibration routine with the click on a button.
This type of control box is already included with BIG-Meter and BIG-180X and now is offered as an optional upgrade for: BIG-60, BIG-120X, BIG-120Z and BIG-40.
The upgrade includes a fully wired new electronic box with both Duet 2 WiFi controller, Duex-5 expansion board, wires for all motors and an additional X axis end-stop. You may keep your default electronic box as spare / backup.
* Will work only on V3 models.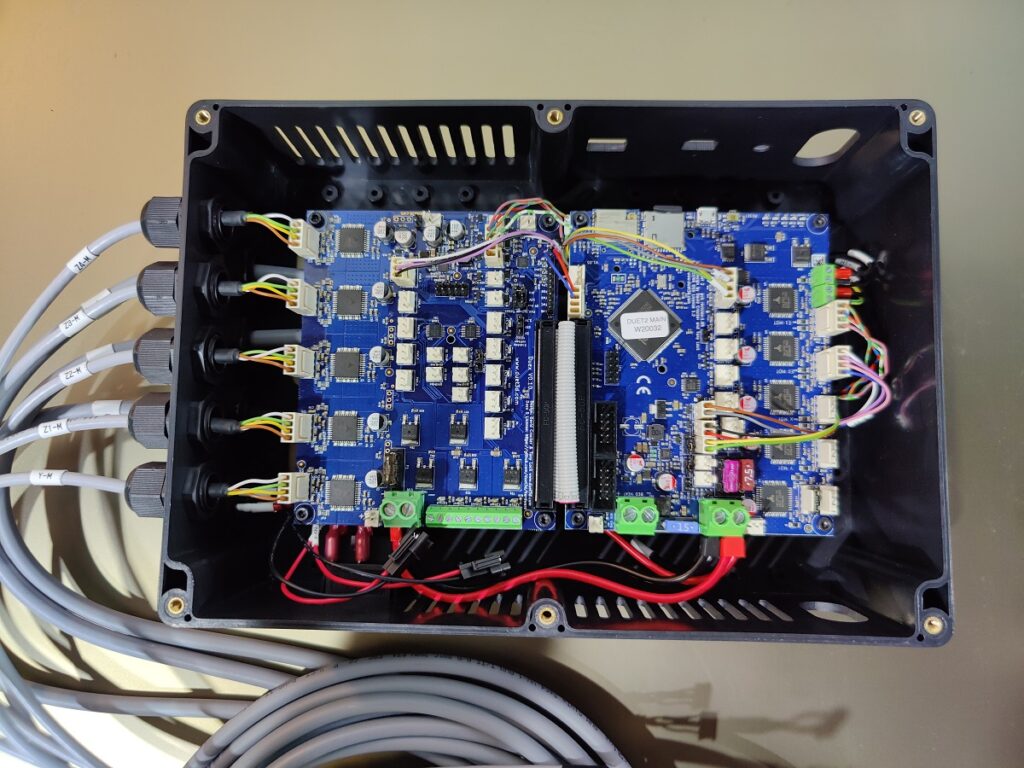 Open source Duet RepRap firmware. The leading firmware for 3D printing allowing numerous configurations and easy customization using the macro system.
One can choose from any available slicer and 3D printer controller including: Slic3r, Cura, and Simplify3d (recommended).
Specific printer configurations are supplied in the customer zone.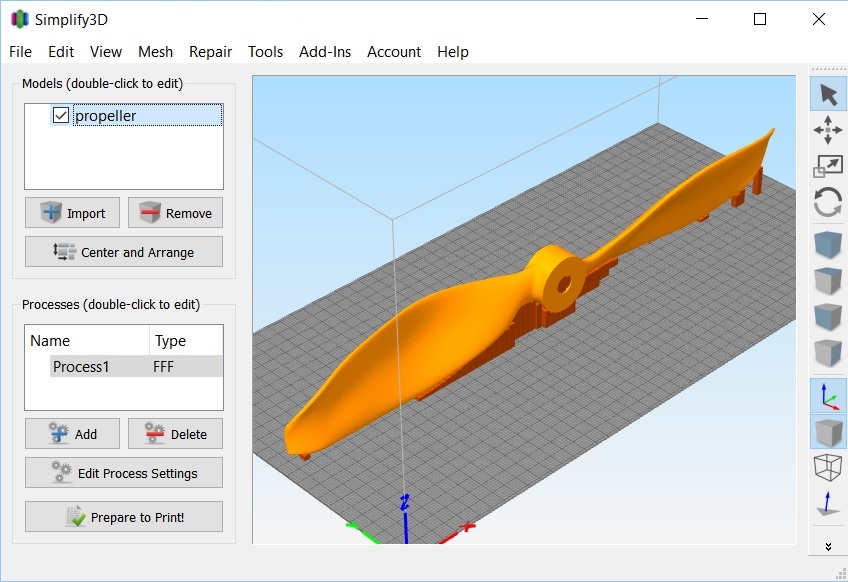 Previously and optional upgrade and now is the default print head on all our printers, the new Griffin print-head is a major improvement to our offering. It consists of a custom extruder made by Bondtech (based on the BMG model) and of a new hotend designed by Modix. The new design new default with every Modix printer includes of the following improvements:
High flow rate & high printing temperatures: The Bodtech extruder provides a double drive-gear system that grabs the filament from both sides. The heat-block is made of nickel-coated copper, for a faster heat transfer and compatibility with higher printing temperatures. The design includes the advanced Slice Engineering Bi-Metal heat-break that extends the melting zone inside the heat-block by being mostly made of copper as well. In addition, an upgraded PT-1000 temperature sensor enables printing in higher temperatures of up to 500°c. The hotend components are rated for 500°c and so far were verified in printing of up to 340°c.

Higher reliability: Large scale 3D printing usually involves the risk of the print-head scratching or crashing into the thick layer models resulting in bent or broken heat-breaks. The new print-head provides a rigid mounting of the heat-block, so it's naturally more reliable and reduces these situations. The main reason for this is that the heat-block is now mounted on three faces instead of only one. It can withstand a much stronger impact thanks to this additional bracing. The longer-type E3D Super Volcano can also be attached to the rigid mounting as well, using a dedicated adapter (Late summer 2022)

Improved User Experience: The new print-head design makes nozzle replacements much easier, and even allows a quick swapping of the entire filament melting subsystem. The rigid mounting of the heat-block allows one handed nozzle replacement, making it even easier to test different nozzle diameters.
Easy Swap: The design of the mounting bracket and the D shaft style of the Slice Engineering heat-break gives users the ability to slide the entire filament melting subsystem in and out with ease. This will allow users to dedicate a complete setup for a specific filament type. i.e. keeping one setup for abrasive carbon filled filament and another one for prototyping with PLA.
Compact Design: The new design maintains the previous design benefits of compact design that preserves the generous Z-axis travel and is compatible with the vast offering of E3D Volcano nozzles coming in numerous sizes and materials.
Smart: The new print-head allows automatic Z off-set calibration between the nozzle and the BL Touch probe. This is by far easier and more precise than the manual procedure. A dedicated sensor allows the BL-Touch and the nozzle to touch the surface, consequently. The precise relative distance (the "offset") is saved automatically to the printer.
Inluded:
– Griffin Hotend
– PT-1000 temperature sensor
– 50W heater
– Silicon Sock
– Bondtech custom BMG extruder
– Metal mounting brackets
– Blower fan , duct and brackets
– Z Offset calibration probe
Secondary Griffin Extruder
Inluded:
– Griffin Hotend
– PT-1000 temperature sensor
– 50W heater
– Silicon Sock
– Mirrored custom BMG extruder
– Metal mounting brackets
– Blower fan , duct and brackets
Standard & optional hot-end configurations
Our standard Griffin hotend is compatible with the E3D Volcano high-flow nozzles. As a default we provide 0.4, 0.6 & 0.8 mm sizes brass Volcano nozzles.
E3D provides wide range of Modix's compatible nozzles including nozzles that can withstand abrasive filaments such as carbon fiber or metal filled filaments.
Our hotend and extruder matches the 1.75 mm filament diameter.
Heater cartridge is 24V 50W, max temperature is 285

o

c by default. Can be converted to a higher temperature of up to 500

o

c
Griffin extruder is also compatible with two E3D hotends alternatives, we sell both options as add-ons:
E3D-V6 with a shorter heat-block for detailed printing
E3D Super Volcano for XL high flow printing.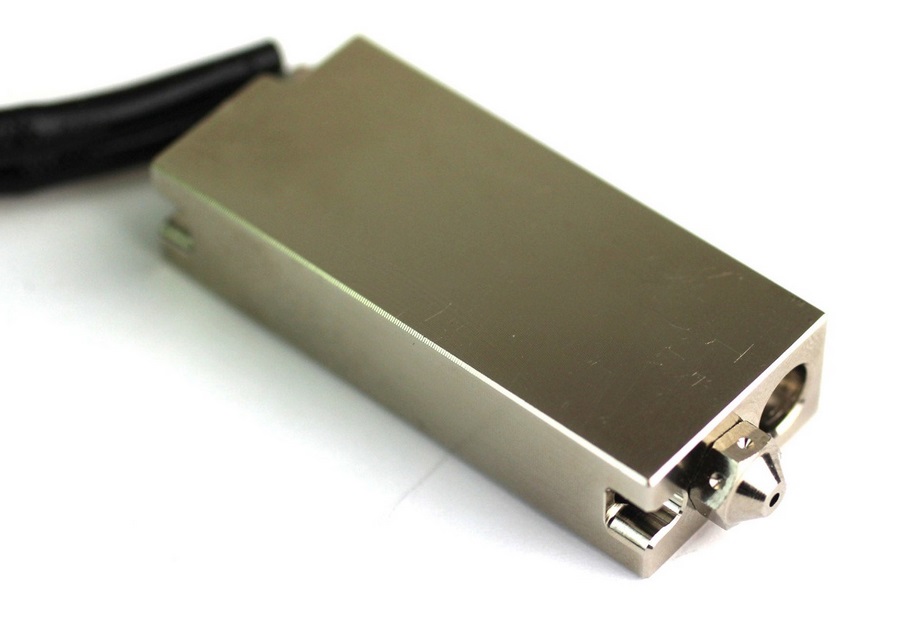 E3D Super Volcano high flow add-on
for printing big bulky objects fast.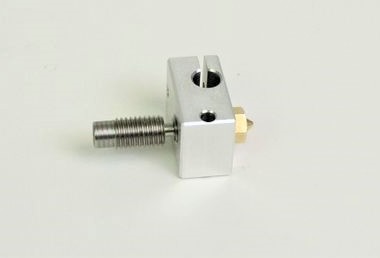 E3D V6 with a shorter heat-block for detailed print jobs.

Previously an optional add-on and now default with every printer, is an improvement to the printer's reliability.  The clog detector is provided with a custom highly sensitive encoder capable of detecting for following potential failures:
Hot-end clogs
Knots in the filament spools
Filament run-out
Under extrusion such as when the nozzle temperature is too low,  or the nozzle is too close to the bed.
When a failure is being detected, the printer is paused and print job can be saved. No more discovering your printer printing mid air!
This add-on is provided as a drop-in replacement for the current filament run-out sensor. Consider purchasing two units for dual print head configuration.
* Requires Duet controller, will not work on non-upgraded V2 models.
Previously an optional add-on and now it arrives every printer, is an additional layer of safety in rare cases where the BL-Touch bed leveling probe fails and this failure is not being detected by the printer controller. In this case, the detector will prevent the print head from crashing into the bed plate.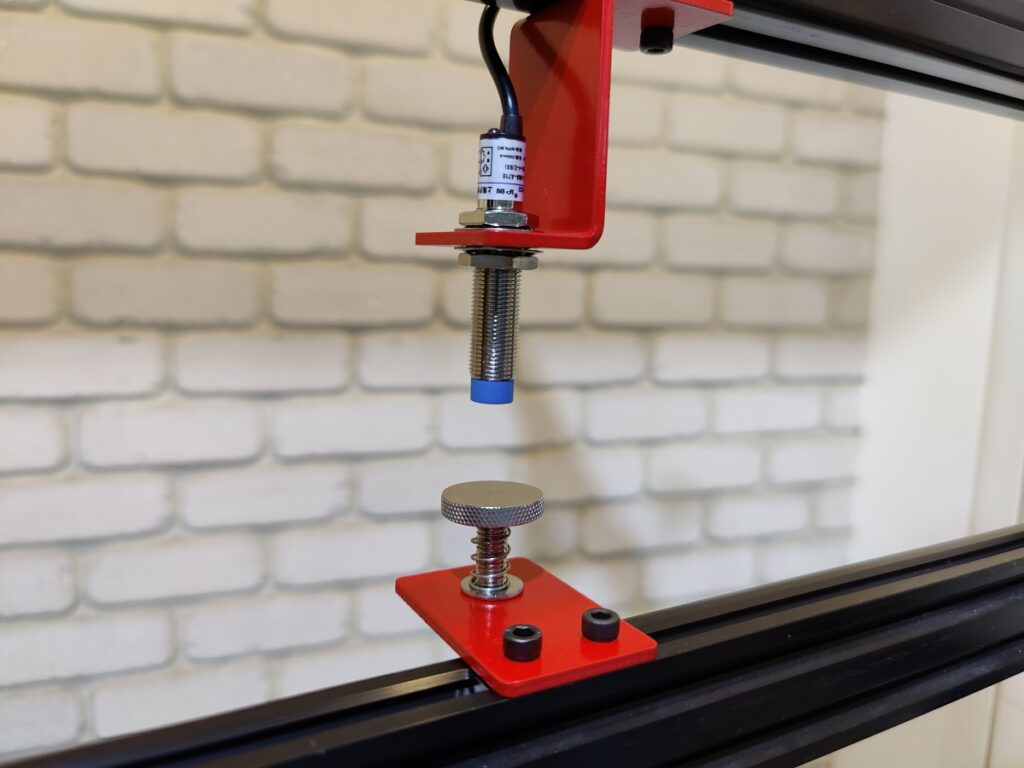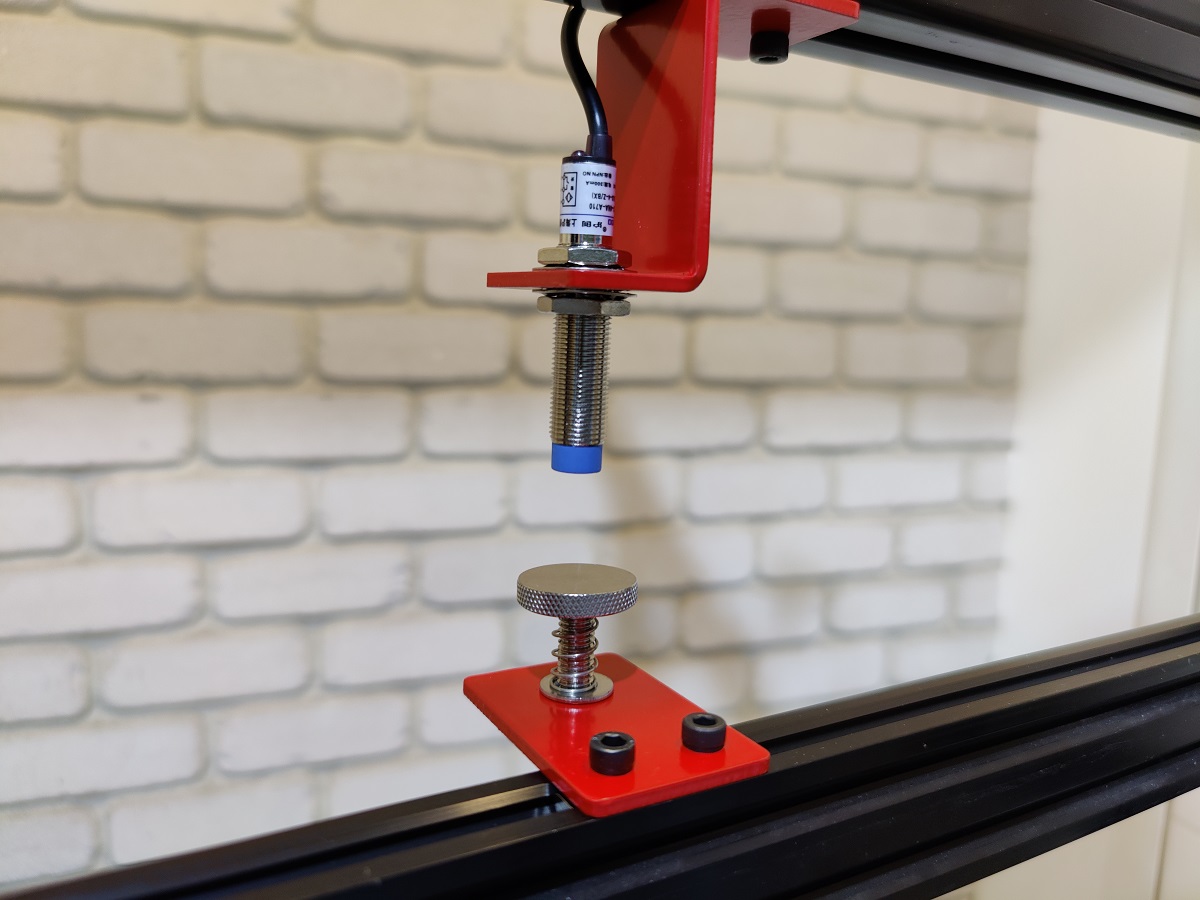 Modix Active Air Filter (MAAF) is an external air filter device. The filter cleanses the printers' chamber by capturing micro-particles and gas fumes that are released from melted filament throughout the 3D printing process. MAAF provides a constant air cleansing process during the entire printing process, circulating the air in and out and back into the printer while cleaning it repeatedly.
Multi-layer filtering
A large fan inside the device draws the air from the printer through a flexible vent tube connected to the top of the device. The air is then guided through a set of three filters before it is circulated back into the printer.
The triple filter system includes
1. Pre-Filter – Remove large dust particles from the air.
2. HEPA Filter – High-Efficiency Particulate Absorbing (HEPA) filter, composed of a mat of randomly arranged fiberglass fibers designed to capture tiny particles released during printing.
3. Active Carbon Filter – Clean the air from toxic fumes released during the 3D printing process.
It is about your health!
Sub-micron particles and fumes released during the plastic melting process pose risk to your health. Therefore, every owner of a Modix 3D printer is strongly advised to install an air filter.  Air filter is a MUST-HAVE add-on if you intend to print with any plastic beyond PLA, i.e. PETG, ABS… Although common knowledge is that printing PLA in a well-ventilated room is fine, there is no clear definition of proper room ventilation and during the winter and summer times windows are normally closed.
Controlling the air speed
Frontal speed selector allows controlling the air flow speed. Running the filter on the lowest speed during the printing process will not affect the internal chamber temperature while providing effective filtering. By the end of the printing, you can set the speed for the highest option for a few minutes in order to ensure a complete chamber cleaning before opening the doors.
Spare Filters
Considering a daily use of the printer in a clean room, the HEPA/Carbon combo filters last from 6 to12 months and the pre-filter from 3 to 6 months. Change filter alert indicator is located on the front panel .
Power Distribution Unit (PDU)
PDU is included by default with the BIG-Meter and BIG-180X due to their high power requirements. Since we have found it to be a very convenient cable management solution, it is now offered for all other models. Replace 3 (or 4) AC cables with only one cable connected to the wall.
* This solution does not support BIG-120X running on 110V, please contact sales team for an alternative solution.
Our printing head supports almost any existing filament including :
PLA, ABS, composites: Carbon fiber, Wood, Copper, Brass, Magnetic, PHA, PVA , Hips, Nylon, TPE & TPU (flexible) Co-Polyester, PETG 
Open Filament  – Any filament from any vendor can be used.
Filament Run-Out Sensor – The filament run-out detection sensor will pause the print job when the filament has been used up.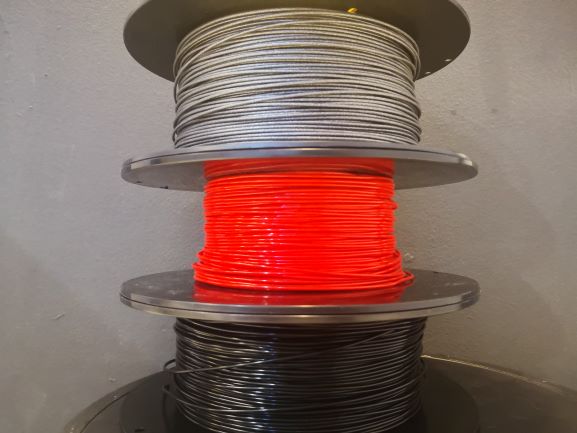 8KG Spools Mounting Shelf Add-on
A refreshed design of the spool mounting shelf will now enable mounting 8KG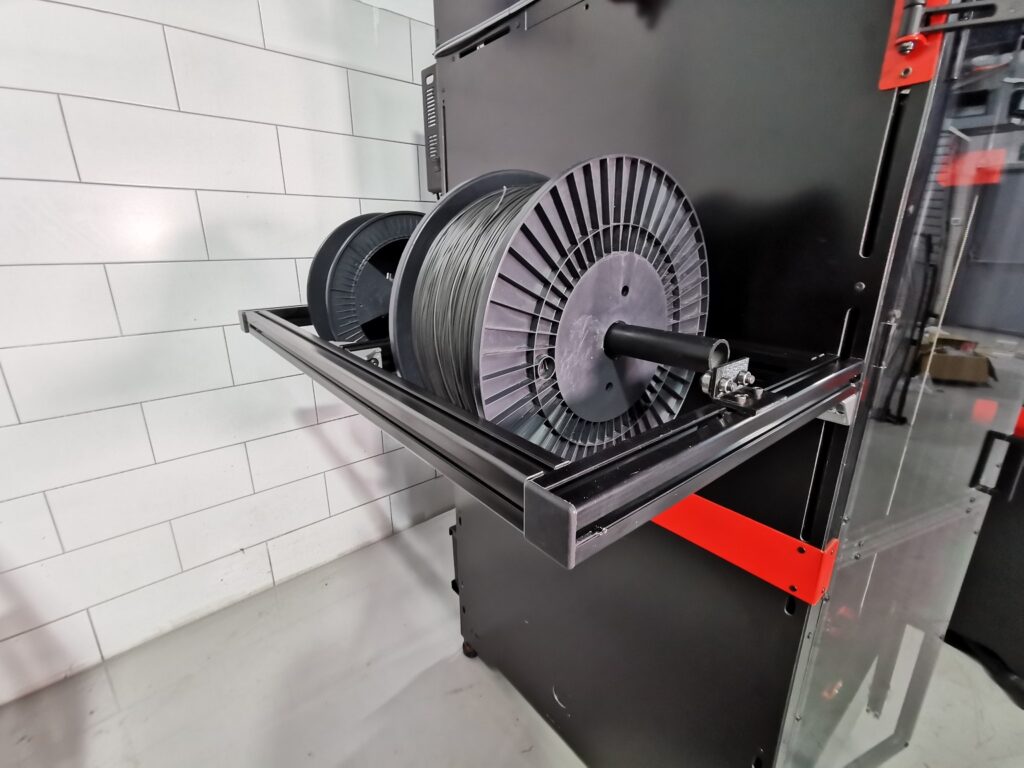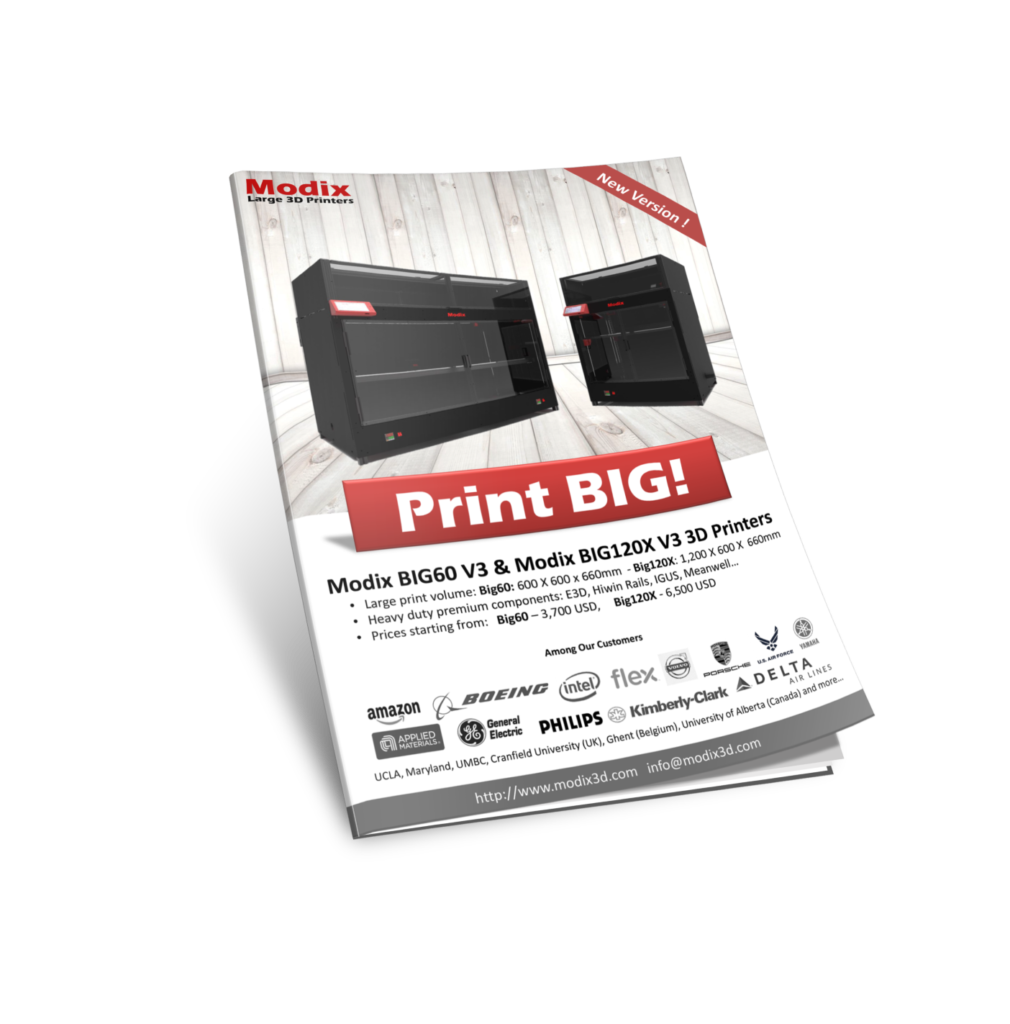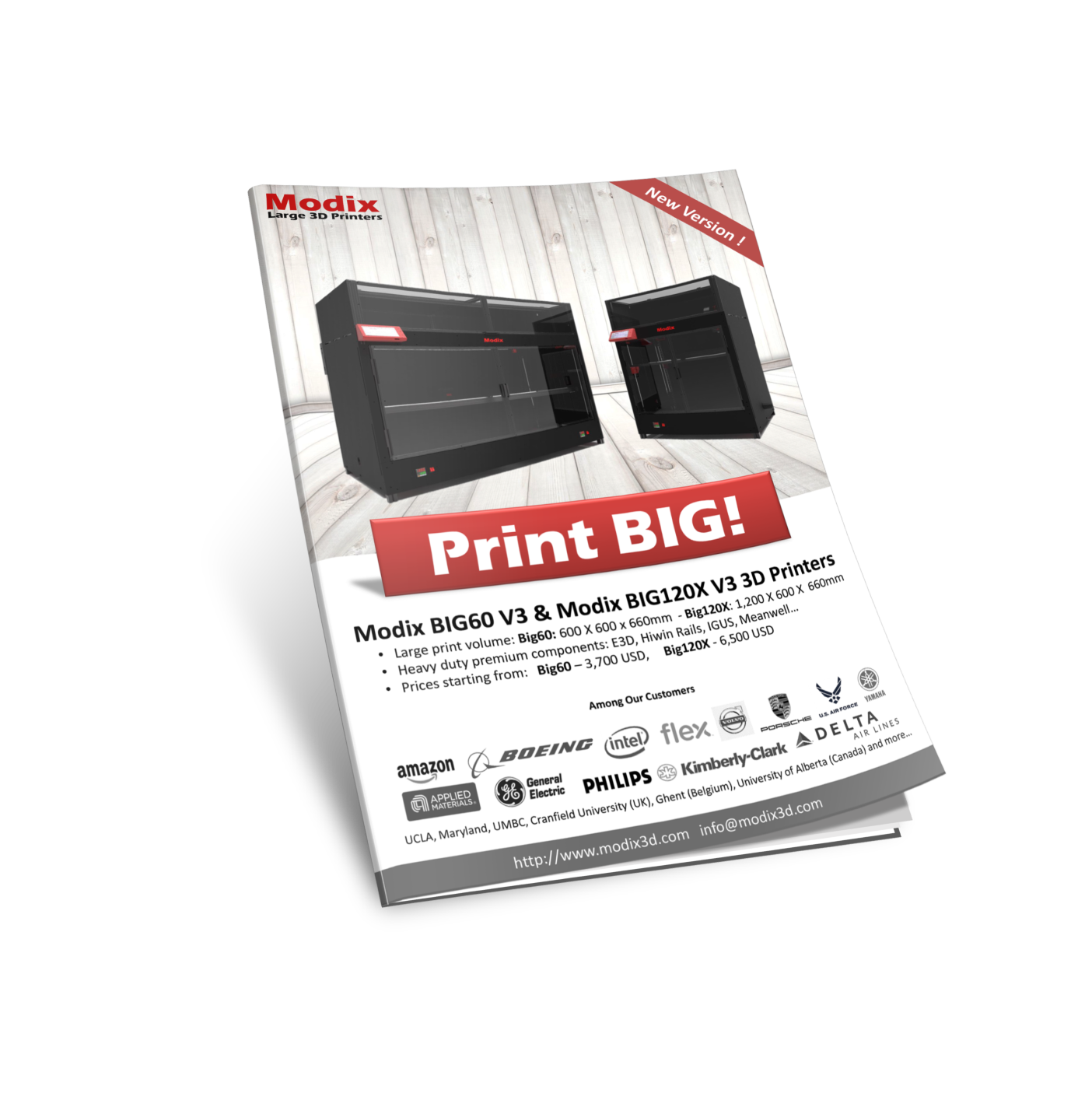 Send data sheet & more info: