For ordering upgrades, please contact sales at sales@modix3d.com
Upgrade your printer to the latest advanced capabilities of version 3.0!
These upgrades below are for both BIG-60 and BIG-120X and are applicable to both version 1.0 and 2.0.
Please check here the list of improvements in version 3.0.
For your information, these upgrades are not available off-the-shelf and will be manufactured based on orders.
Lead time is 8 weeks.
If you need spare parts that are not listed below, please contact our sales team.
Shipment cost will be calculated based on your specific order and a request for a payment will be sent before the shipping.
Shipping cost for the air filter units is already included with the price.
1) Electronic Controller & Touch Screen:
This is the most important upgrade for your Modix 3D Printer:
New Electronic box with a new controller: Duet 2 WiFi, 32-Bit,
a powerful 3D printer controller. The upgrade includes a new electronic box and IGUS wires that will replace your current electronic box. The wires are compatible with your print head connectors.
(WiFi) Web access from both PC and mobile phones. Now you can load the G-code files right from your computer as you finish slicing the model.
High power motor drivers with dynamic digital power allocation.
Touch Screen: 7 -inch touchscreen. The upgrade include the touch screen and a new mounting bracket. The touchscreen is wider than he older LCD screen but the mounting is designed in a way that will not disturb the enclosure door.
Shielded IGUS wires for the motors –  The IGUS cables provide higher electric noise protection.
Probe – Important note! – The inductive sensor is no longer supported. if you do not have the BLTouch yet, please add it to your order.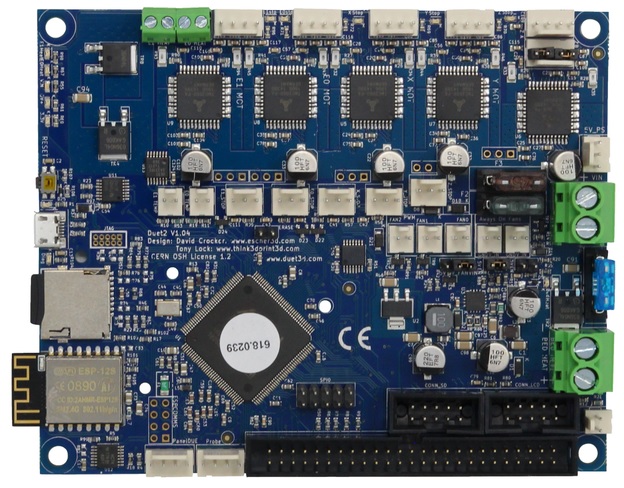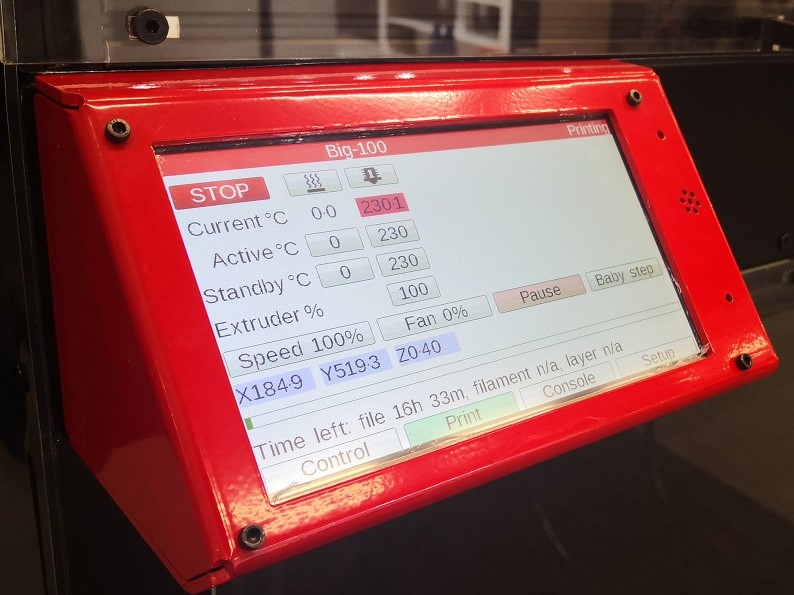 2) Motion System & Dual Direct Drive (requires Duet upgrade):
Replace the X shaft with two motors, one for each X axis belt.
This configuration can provide the required torque to move the heavier print head configuration, the added weight of the secondary extruder and extruder motor.

New mounting for the extruders. This new mounting places the two extruders side by side in a dual direct drive mode. This configuration provides higher accuracy with dual-extrusion printing.
A new mounting system for the X and Y axis drag chains reduces vibration and provides more accurate printing.
* Note – the new motion system brackets reduce the total Y axis movement from 610 mm to 590 mm.

* This upgrade requires the electronics upgrade as well.

3) Extruder & Hotend Parts (requires both duet (option 1) and motion (option 2) upgrades)

Upgrade your extruder to E3D Aero.
Advantages of Aero over the Titan extruder:
– Accurate retraction – Due to a shorter filament path from the filament drive gear to the heating block.
– Better flexible filament print results – The shorter filament path also helps with printing flexible filaments.
– Print quality – The shorter extruder design is significantly sturdier and provides less printing artifacts.
1) Complete set of E3D Aero extruder & Volcano hotend.
* not including the motor
3) E3D SuperVolcano including:
Heat-block, heater 80W,
Thermistor & 1mm nozzle.
Modix Active Air Filter is an external air filter device that filters the printer chamber's air from micro-particles and gas fumes released while the print head melts filament. The filter constantly cleans the air during the entire printing process, circulating the air out and back into the printer while cleaning it repeatedly.
Triple filter system: Pre-Filter, HEPA & Active Carbon Filter.
For more information, please click here

For ordering upgrades, please contact sales at sales@modix3d.com