Modix Big 60 3D Printer Technical specifications
General Information
Printing Technology - FFF (Filament Filament Fabrication)
Number of print heads - single or dual (optional)
Print space 610 X 610 X 610 mm - 24 cubic inch.
Shipment Style - Self assembly kit with critical components provided assembled (electronics, print head...)
Machine Size and Installation
Machine Size: Width - X Axis 900 mm | Depth - Y Axis 950mm | Height -  Z Axis 975 mm (without feets).
The printer is wide than most of the standard doors, please consider choosing the assembly location accordingly.
Room temperature - 16-29c.
Structure
Solid 40X40 T-slot aluminum profiles
Powder coated laser cut aluminum brackets and joints
Closed enclosure made of acrylic or polycarbonate - optional
 Motion System
Stainless steel linear guides with ball bearing blocks.
3x 12 mm width and 4mm pitch Ball Screws for Z axis 
4x 12mm smooth rods and nickel coated linear ball bearing for smooth walls and z axis printing accuracy.
10mm width PU (Polyurethane) timing belt with steel cores. Belt is designed for high speed and acceleration.
Speed & Resolution
Printing speed: up to 150 mm/s @ Acceleration of 1500 mm/s2
Positioning Precision X - 4 micron
Positioning Precision Y - 10 micron
Positioning Precision Z - 16 micron
Minimal practical layer thickness - 40 micron
Print Head
E3D V6 Hotend 
E3D high flow Volcano heating block (vertical heater cartridge) as a standard.
E3D Titan extruder. Installed in a direct drive mode for easy flexible filament printing.
Default Filament diameter 1.75 mm as default , optional 3mm.
Default nozzle diameter - 0.4 mm. Optional sizes: [0.15,0.25, 0.3, 0.35]*, 0.4, 0.5, 0.6, 0.8, 1 & 1.2 mm  ( * nozzles smaller than 0.4 mm requires the standard (horizontal heater) block
Heater , 24V 40W heater cartridge for fast heating and high flow printing.
Print Bed
Heated bed with temp up to 110c
Dual zone silicon heater with inner zone of 200x200 mm. Save energy when printing small objects by using the inner heating zone only.
Cast aluminum tooling plate with 6.35mm thick. Aloy 5083 Precision milled to 0.4 Micron level flatness accuracy.
PEI Print surface  - a long lasting material that is both make the print stick well while hot and easily release them when cooling down.
Filament
Our printing head support almost any existing filament including : PLA, ABS, PLA composites (Carbon fiber, Wood, Copper, Brass, Magnetic ), PHA, PVA , Hips, Nylon, TPE & TPU (FleX) Co-Polyester, PETG…
Open Filament  - you can use any filament from any source. FYI, Low quality filament may lead to clogged hotend.
Important note! Although Modix Big 3D printer can print many types of plastics,  please do your best to minimize the use of non bio-degradable  plastics. Be responsible for the waste you produce.
Filament Run-Out Sensor
The filament run-out detection sensor is a small switch. In case the spool ended during a print job, the switch is turned on and execute the print job pausing procedure. This will allow you to feed a new spool of filament and resume the print.
Motherboard
Controller  - MKS Gen 1.4 with support to dual print head.
Firmware - Marlin 1.1.3  - open source software that can read any standard gcode file

Software
Open software compatibility - Modix Big is compatible with any standard Reprap style Gcode generator including: Cura, Slic3r, kisslicer. Simplified3D, Pronterface etc..
Connectivity
Stand alone operation: USB Disk  , SD Card
Touch Screen controller
Remote control with wifi - Optional
Could be use directly from a computer:
Electrical
Main Power Supply - Meanwell PS 24V 280W
Heat Bed with dedicated mains :110V- 230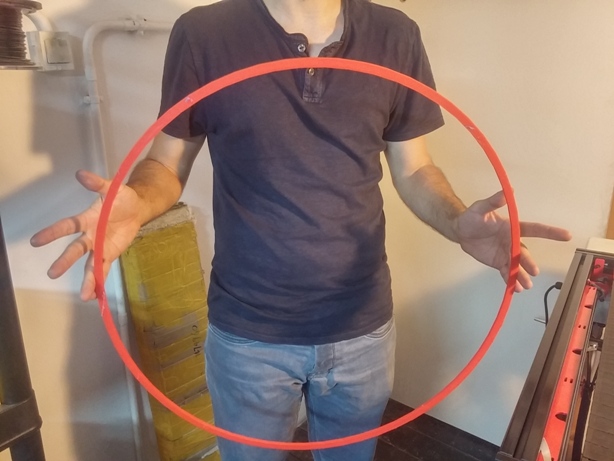 Optional full acrylic enclosure.
Premium print head E3D Titan.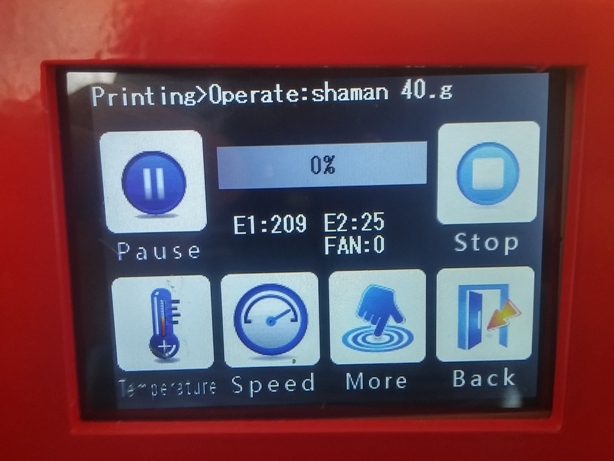 Easy for use touch screen panel
Send Me More Information: